I haven't done an FOTD post in so long but I've been in a neutral rut so that's all I've been doing. I've been super busy and haven't been going out much so my makeup hasn't been that interesting.
I did this look to switch up my neutral routine just a little by adding some electric blue to my lower lashline. It was to complement a grey maxi dress I was wearing. I didn't want to be so colorless all over hence the little funk to my neutral look.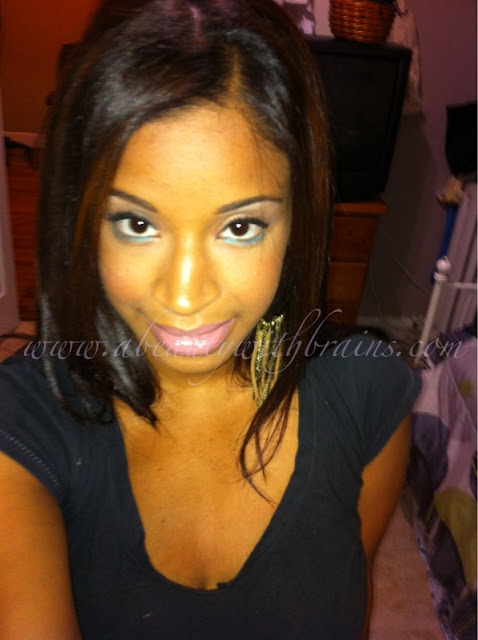 Products Used:
FACE
NYX Face Primer (lavender one)
Latina Bella Liquid Foundation in No 10
Maybelline Fit Me Powder in No 350
Wet n Wild Bronzer in "Goddess"
NYX blush in "Mocha"
EYES
ELF eyelid primer
MAC e/s in "bold & brazen"
Wet n Wild "Pride" e/s palette (dark brown, taupe and highlight colors)
NYX palette in "Bohemian Rhapsody" (brown for crease)
Coastal Scents 88 palette (electric blue on lower lashline)
Jafra eyeliner pencil in "Black"
Flirt It! Mascara
ELF studio brow kit in "Medium"
LIPS
Eos lip balm in "Summer Fruit"
Maybelline lipstick in "Pink Please"
Revlon Super Lustruous lip gloss in "Peach Petal"

I tried filling in my eyebrows because the lady that threaded them too thin. I was so mad! But I think I did an okay job.
- Posted using BlogPress from my iPhone